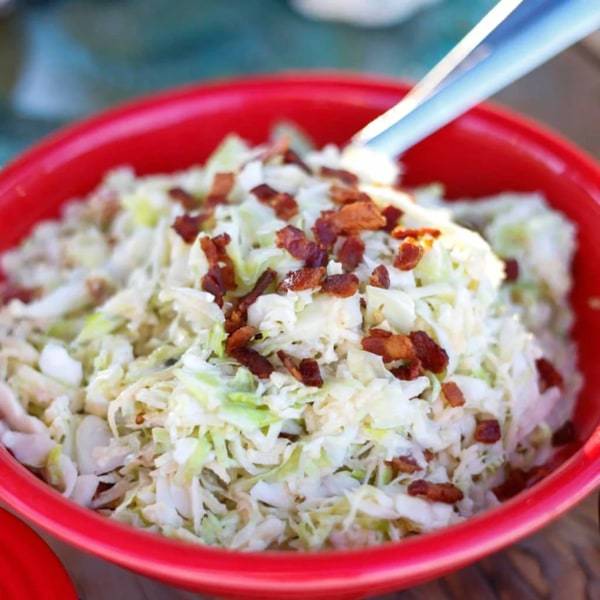 Apple Coleslaw with a Citrus Dressing
INGREDIENTS
1/4 Cup Tangy Tangerine White Balsamic Vinegar
1 Cup Greek Yogurt
1/3 Cup Blood Orange Infused Olive Oil
1 tsp Freshly Ground Black Pepper
1 Small Fennel Bulb, shredded
1 Medium Cabbage, cored and shredded
4 Apples, peeled, cored, and shredded
6 Pieces Bacon, cooked crispy and crumbled
DIRECTIONS
Mix all ingredients except bacon in a large bowl. Let sit for 1 hour up to 24 hours.
Top with bacon before serving and enjoy!
**Items in
BOLD
are products available at Karmin's Kitchen Table**
Raspberry Salad with Carmelized Nuts
INGREDIENTS FOR THE CARAMELIZED NUTS
¼ Cup Walnuts
1 Tbsp Vine-Ripened Raspberry Balsamic Vinegar
1 tsp Vanilla Bean Sea Salt
INGREDIENTS FOR THE SALAD
3 Tbsp Vine-Ripened Raspberry Balsamic Vinegar
1 Tbsp Sicilian Lemon Infused Olive Oil
1/8 tsp Vanilla Bea Sea Salt
4 Cups Spinach
1 Cup Fresh Raspberries
¼ Cup Parmesan Reggiano Cheese
DIRECTIONS
Heat a skillet over medium heat. Add the walnuts and cook until they start to become aromatic, about 5 minutes. Stir occasionally to prevent burning and toast evenly. Add the balsamic vinegar, stir to coat, and remove from the heat. Toss with sea salt and allow to cool.
Meanwhile create the dressing by whisking together the vinegar, oil, and sea salt.
Arrange the spinach in a large platter. Toss with the dressing. Top with the Raspberries, cheese, and caramelized walnuts. Enjoy!
**Items in
BOLD
are products available at Karmin's Kitchen Table**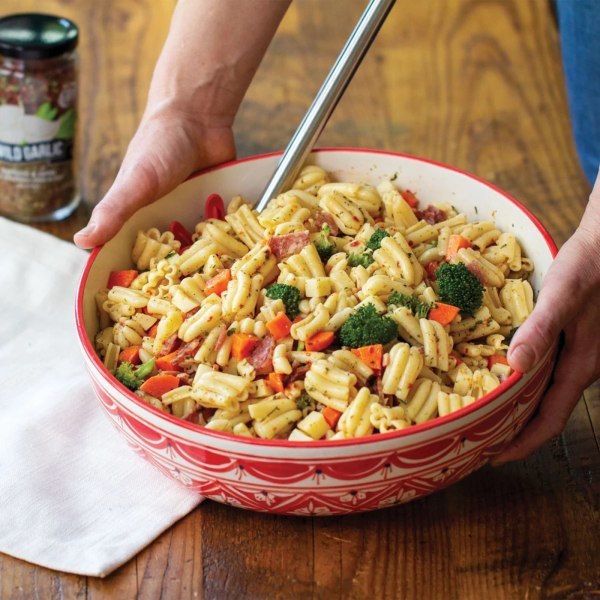 Italian Pasta Salad
INGREDIENTS
1 Pasta Rock
1/2 lb Orecchiette Pasta
1 tsp Mustard
1 Tbsp Wild Garlic Dried Herb Blend
6 Tbsp White Balsamic Vinegar
6 Tbsp Frantoia Italian Extra Virgin Olive Oil
2 Cups Broccoli Florets
2 Carrots
1/4 lb Salami
1/4 Cup Provolone Cheese, cut into 1/4" cubes
DIRECTIONS
Bring a large pot of water to a boil. Once boiling, add a pasta rock for 2 minutes to salt your water then remove. Add pasta and cook until al dente, about 2 minutes short of package directions. Drain the pasta and set aside.
To make the dressing, whisk together the mustard, herb seasoning blend and vinegar in a small-medium sized bowl. While whisking, slowly drizzle in the olive oil.
Cube into bite size pieces the broccoli, carrots, salami, and pecorino cheese. Toss the meat and veggies with the cooked pasta and dressing.
Enjoy this salad right away or give it a chance to marinate by making it a few hours in advance.
**Items in
BOLD
are products available at Karmin's Kitchen Table**